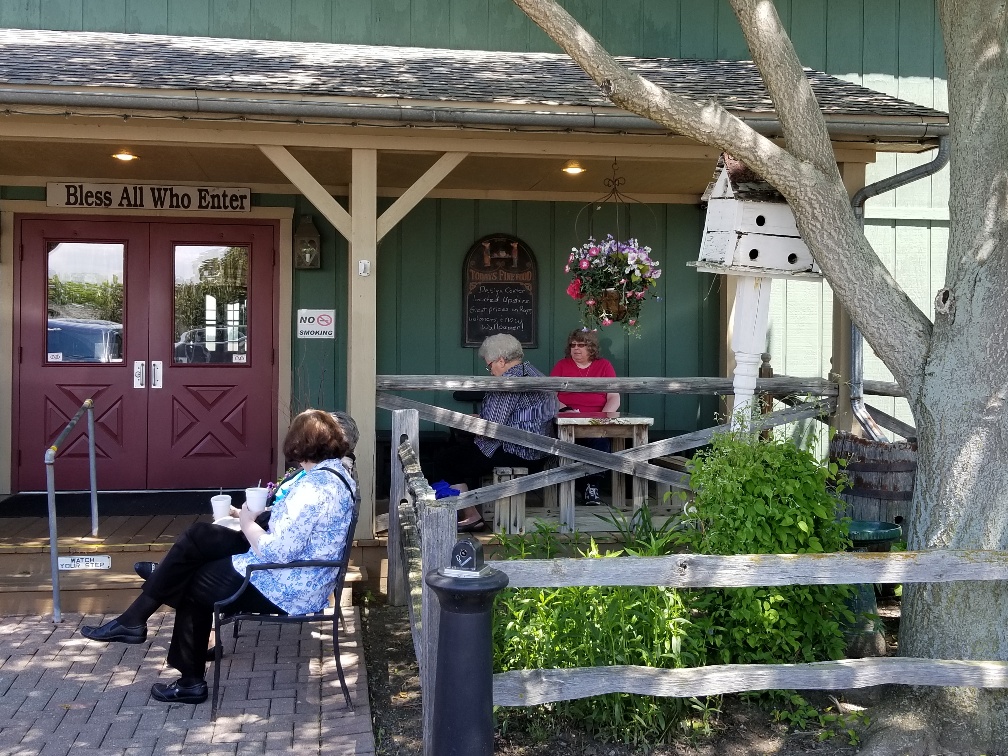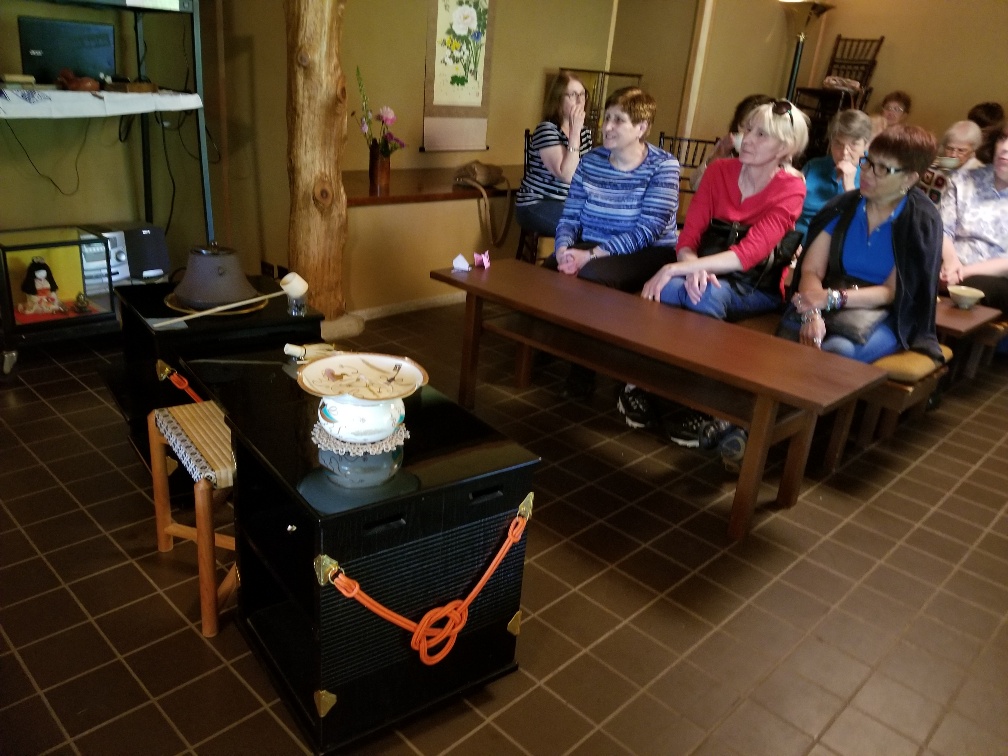 Pride & Country/Japanese Cultural Center Tea Room & Gardens
We took a wonderful trip back in time to Saginaw as we looked around the historic buildings that house the shops of the Pride and Country Village…from the 1904 Farmhouse, to the 1899 Schoolhouse, to the relocated farm building in the outdoor center. Each historic building within the village was as unique as the merchandise inside. Our afternoon continued as we experienced the charm and beauty of the Japanese Gardens, where we experienced a traditional Japanese tea ceremony. Celebrants wore traditional kimono as they performed this 400-year-old ritual of serving tea.
Applewood Estate & Curwood Castle Tour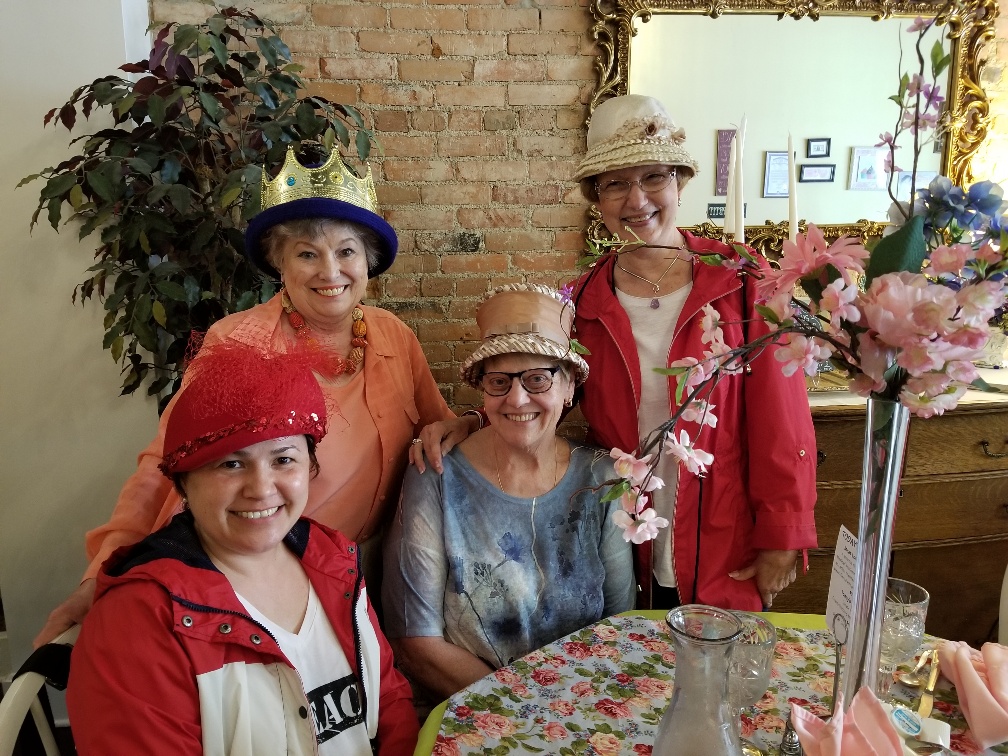 In spring we took an adventure to Curwood Castle and Applewood Estate! We explored Curwood Castle in Owosso, a small-scale French Norman chateau that now houses a museum. James Oliver Curwood was a popular novelist of the 20th Century. He decided to build a writing studio and commissioned this chateau around 1923. Applewood Estate, in Flint, celebrated its 100th year in 2016. Charles Stewart Mott built the Estate in 1916 as a family home and gentleman's farm. In between our visits, we had lunch at Abiding In the Vine, tea room.
What a wonderful day! We started at the Ford Rouge Plant (Factory), built in 1917, over a century of building tractors to cars, military jeeps, tank engines, amphibious vehicles, and later celebrated cars like the Ford Mustang and now the F-150 Truck. Constructed from Henry Ford's vision of an ideal automotive "ore to assembly" complex, where every aspect of production could be processed, manufactured and assembled in one place; a factory memorialized by artist Diego Rivera's world-famous mural in the Detroit Institute of Art. Our next stop was a visit to The Henry Ford Museum, an internationally recognized cultural destination that brings the past forward by immersing visitors in the stories of ingenuity. There was so much to see and do at the museum like sit in a Model T, view John f. Kennedy's limousine, check out Edsel Ford's Tri-Motor Airplane, and so much more!
Air Zoo in Kalamazoo
We had a high flying day at the Air Zoo in Kalamazoo! The Air Zoo is one of the most unique attraction on Earth. Combining an aviation museum, indoor amusement park and science center all in one. There's nothing else like the Air Zoo as you'll experience the sights, sounds, smells and the thrills of our first century of flight with over 50 restored aircraft of history's most exotic species; F-14 Tomcat P-40N Warhawk and the F-18 Hornet to mention a few. One of our most memorable experiences was being in the middle of a WWII bombing mission via the movie screen!
Detroit Public Library Tour & John King Books
Our tour highlighted the architecture of Cass Gilbert, as well as the many works of famed craftsmen and architects. Our docents shared the history, art and architecture of Detroit's acclaimed Main Library. We discovered the Grand Staircase, the Pewabic fireplace, the Ernie Harwell Room, and other surprises along our tour. Then we were off to John King Books! In 1983, John K. King purchased the giant, abandoned, four-story Advance Glove factory building in downtown Detroit. Within a few years, King was utilizing all four floors and filling the basement to overflowing with duplicates and books waiting to be processed. He also bought the office building behind his store, the old Otis Elevator building, and set up his offices and rare book room upstairs there. And in the basement? More books. It never ends! This tour allowed us a glimpse into a booklover's dream and the opportunity to see select items in the rare book room and annex. It was a wonderful day!
Cirque Du Soleil "Corteo"
We had a wonderful afternoon and evening of fun and excitement! Cirque Du Soleil returned back at Little Caesars Arena with the performance of Corteo! Corteo, which means cortege in Italian, is a joyous procession, a festive parade imagined by a clown. The show brought together the passion of the actor with the grace and power of the acrobat to plunge the audience into a theatrical world of fun, comedy and spontaneity situated in a mysterious space between heaven and earth! We also visited Greektown prior to the performance and enjoyed free time for lunch, shopping and gaming!
Hillberry Theatre "As you Like it" & The Whitney
What a spectacular day! The Hilberry Theatre presented "As You Like it," one of William Shakespeare's most hilariously subversive comedies, which knocks down the traditional rules of romance. Being removed from the court by Duke Frederick, Duke Senior takes refuge in the wild and wonderful Forest of Arden. Duke Frederick, threatened by Duke Senior's daughter, Rosalind, banishes her as well. Fearing the unknown, Rosalind and her faithful cousin disguise themselves as boys in order to survive the wilderness.
Before the performance we enjoyed a wonderful and delicious brunch at the most iconic mansion in Detroit, The Whitney! Built between 1890 and 1894 by a famous lumber baron David Whitney Jr. This still remains a Motor City landmark and has retained its exquisite charm throughout the years!
Mystery Trip Summer/Fall 2018
Michigan Capital Building & REOLDs Oldsmobile Museum
Our Mystery Trips over the years has taken us to some incredible places. This season's trip brought us to the Capital building in Lansing, Michigan and later on to REOLDs Oldsmobile Museum. What a wonderful time we had learning about our state's congress meets and the history behind this beautiful structure. After lunch, we visited REOLDs Oldsmobile Museum to look at all the different Oldsmobile and learned about how this car maker became one of the greats of the 20th century.
Soo Locks Cruise Trip
We spent 2 days sightseeing the area around the Mackinac Bridge. Day one began traveling over the bridge to go on a Soo Locks Dinner Cruise. Day 2 was spent on Mackinaw Island, taking in all the sights and sounds of the island itself.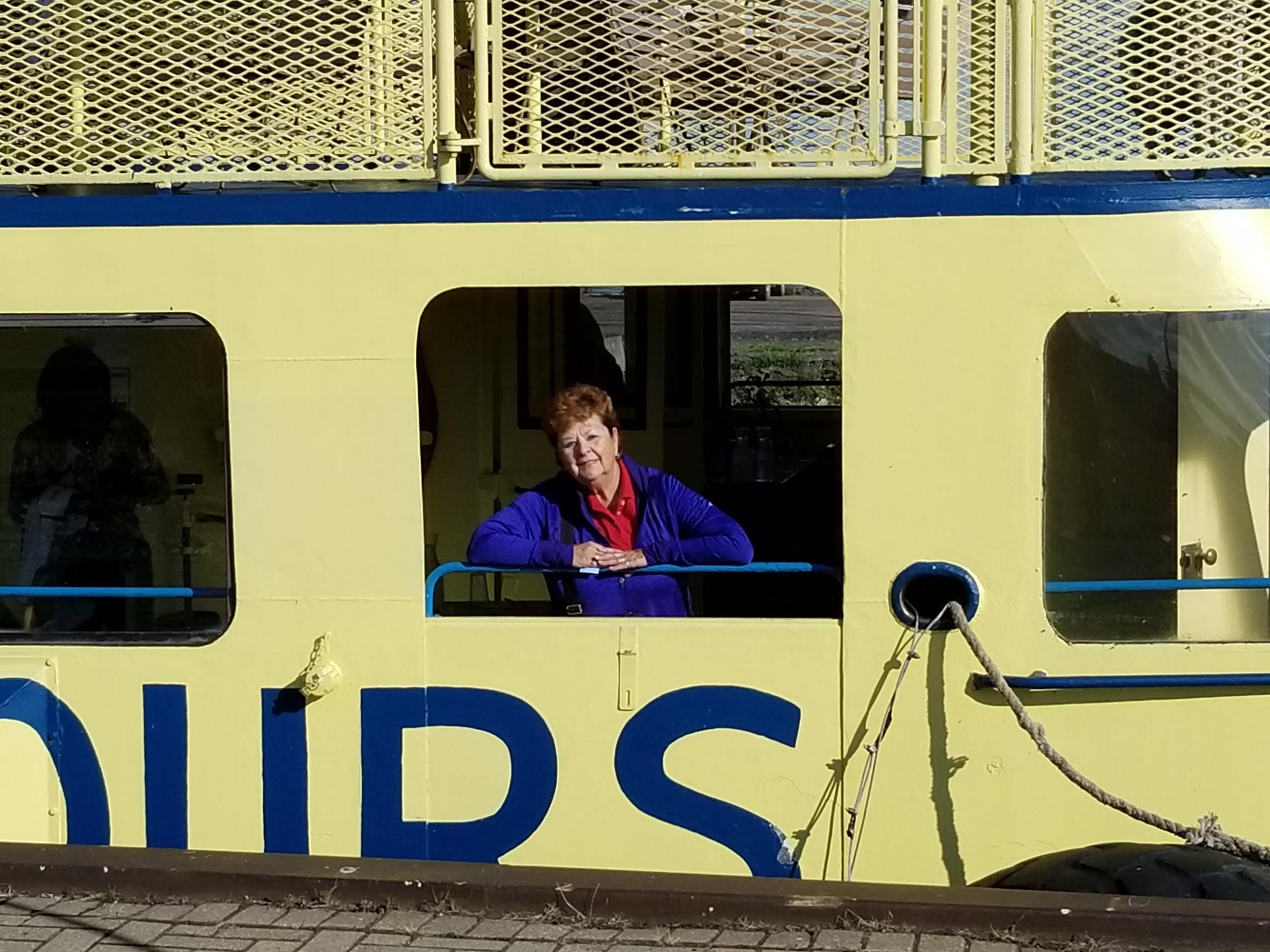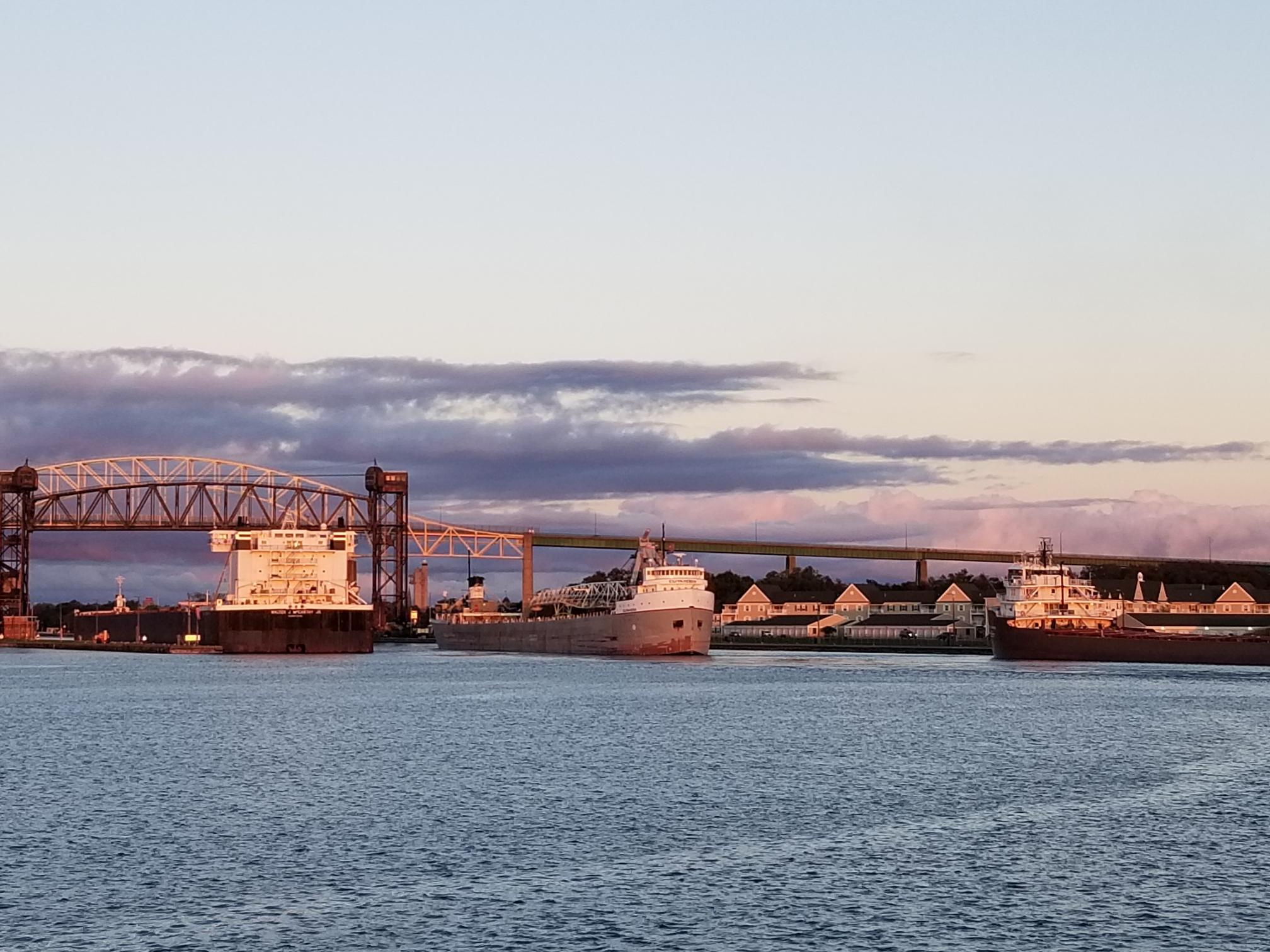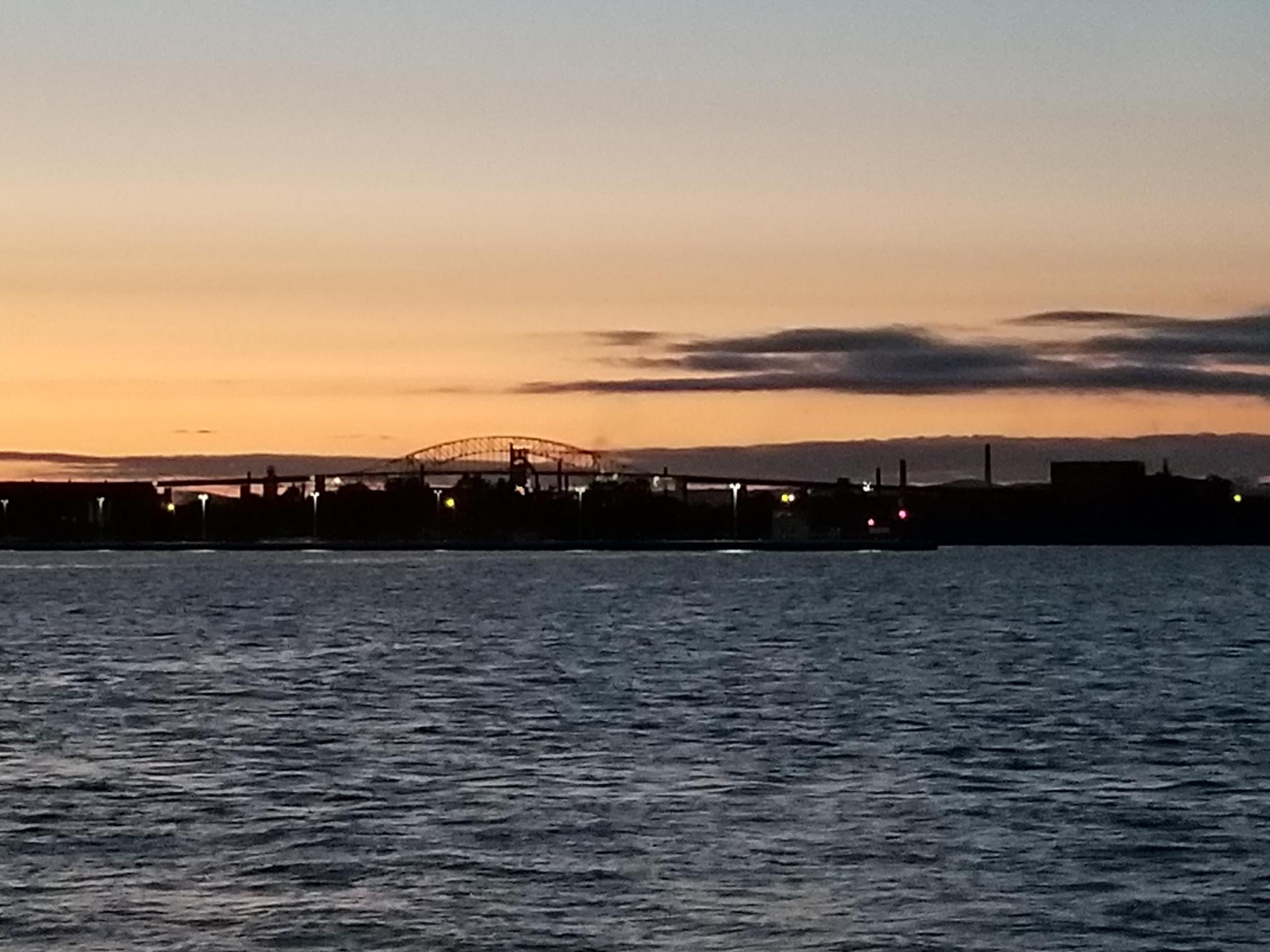 "Wicked" at Detroit Opera House
So much happened before Dorothy dropped in...Wicked, the Broadway sensation, tells the tale of what happened in the Land of Oz, but from a different angle. Long before Dorothy arrives, there was another girl, born with emerald-green skin, smart, fiery misunderstood and possessing an extraordinary talent. When she meets a bubbly blonde who is exceptionally popular, their initial rivalry turns into the unlikeliest of friendships...until the world decides to call one "good" and the other one "wicked". With a thrilling score that includes hits "Defying Gravity", "Popular" and "For Good", if you think you know the wicked witch of the west, think again. Prior to the performance, we enjoyed a visit to Greektown with free time on your own for dinner, shopping, strolling to Campus Marcus, ride the People Mover, and/or some fun gaming!
Saugatuck, MI
Always one of the best trips of the summer, which never grows old. We arrived in Saugatuck and started our day with lunch on the waterfront. A cruise took us on a narrated tour of the Kalamazoo River. We strolled the streets of this charming town for shopping and sightseeing. Our next bold venture was the incredible dune schooner ride through slopes and valleys of the dunes along Lake Michigan where we learned about the history of the area and the buried city of Singapore.
"Willow Run" at the Purple Rose Theatre
During WWII the Willow Run Bomber Plant, located near Ypsilanti, Michigan, was the largest factory under one roof in the world. Some 40,000 employees, mostly women, turned out B-24 Bombers at a rate of one every 55 minutes. Willow Run follows the journey of four of those women who migrated from all over america to find new lives at the plant. Along the way they overcome a multitude of challenges, learn to endure new sorrows, overcome deep-seated prejudices and forge new friendships. Prior to the performance we had a delicious lunch at E.G. Nick's and spent some time shopping stop in the quaint city of Plymouth.
Heavenly Scent Herb Garden
We were in for a treat as enthusiastic owner Steve Mathews guided usthrough a one hour long tour of Heavenly Scent's gardens! He explained how to grow and use the various plants we encountered throughout the excursion. After experiencing the many flowers and fragrances along the garden paths, we enjoyed a buffet-style meal and relaxed in the garden.
Detroit Tiger's Game 2018
Root, root, root for the home team! We enjoyed a great game at Comerica Park with our very own Detroit Tigers! At the end of the game we were thrilled by the beautiful array of fireworks on display!
Surrounded by deep blue waters, it is one of Lake Erie's most picturesque islands. Upon arrival, a tour guide accompanied us on the train so we could enjoy the simple beauty, historic lore and attractions including Put-in-Bay Winery and Doller Museum of Island Life, Perry's Monument Visitor Center, the Butterfly House and the Car Museum. We had a delicious buffet lunch at Tipper's and plenty of free time to explore or shop on our own in the plentiful boutiques and gift shops (July 2018).
Chicago was a wonderful place to visit this summer and this trip was packed in two exciting days to explore, shop and/or visit museums! Our 1st day began in downtown Chicago with five hours of free time with drop-off on the Magnificent Mile. Dinner and a show at Tommy Guns Garage Dinner Theater ended our 1st fun-filled day. Day 2 started off with a hot breakfast and then on to beautiful Navy Pier for shopping and more exploring including the six-story glass atrium called the Crystal Garden!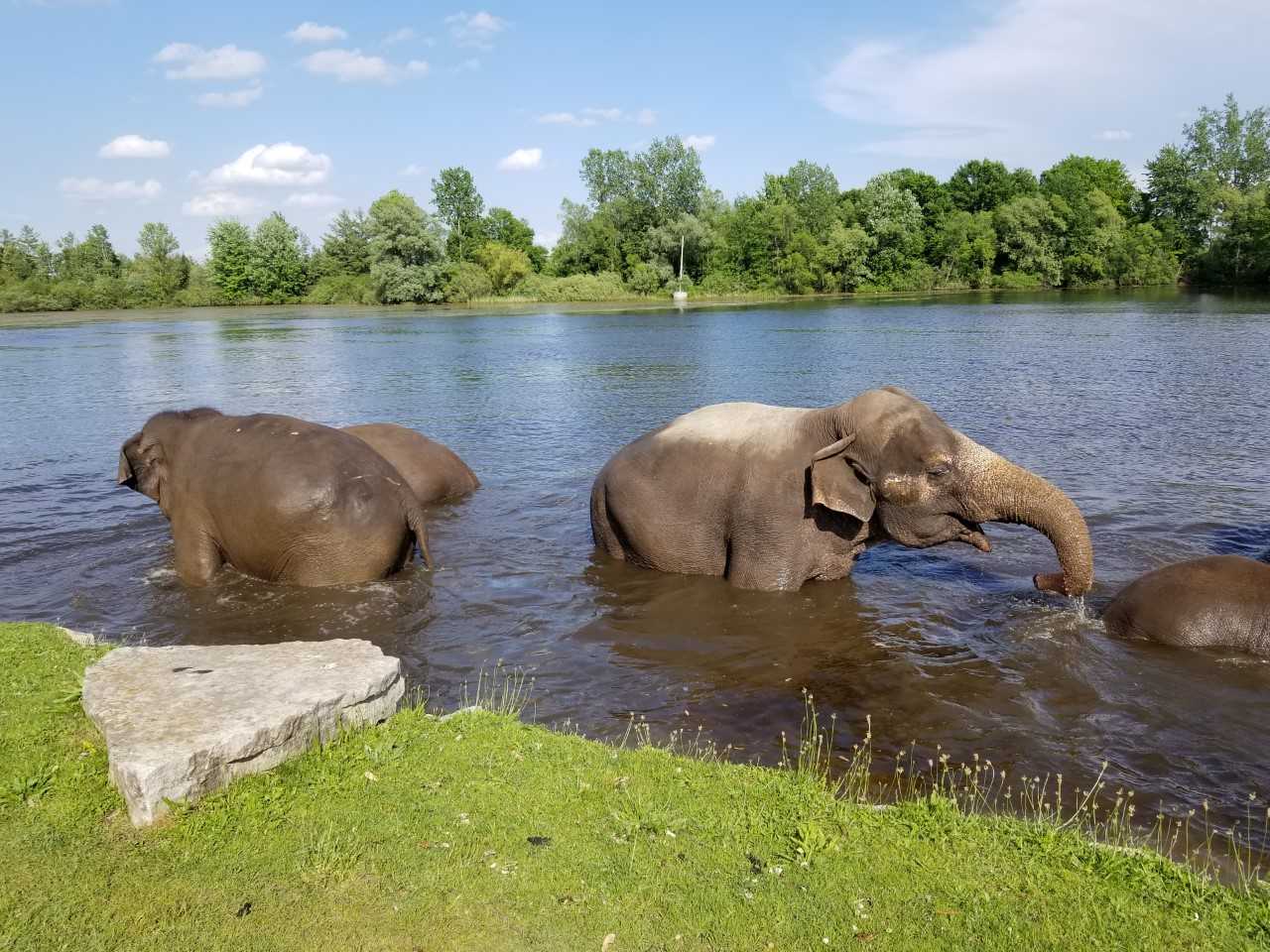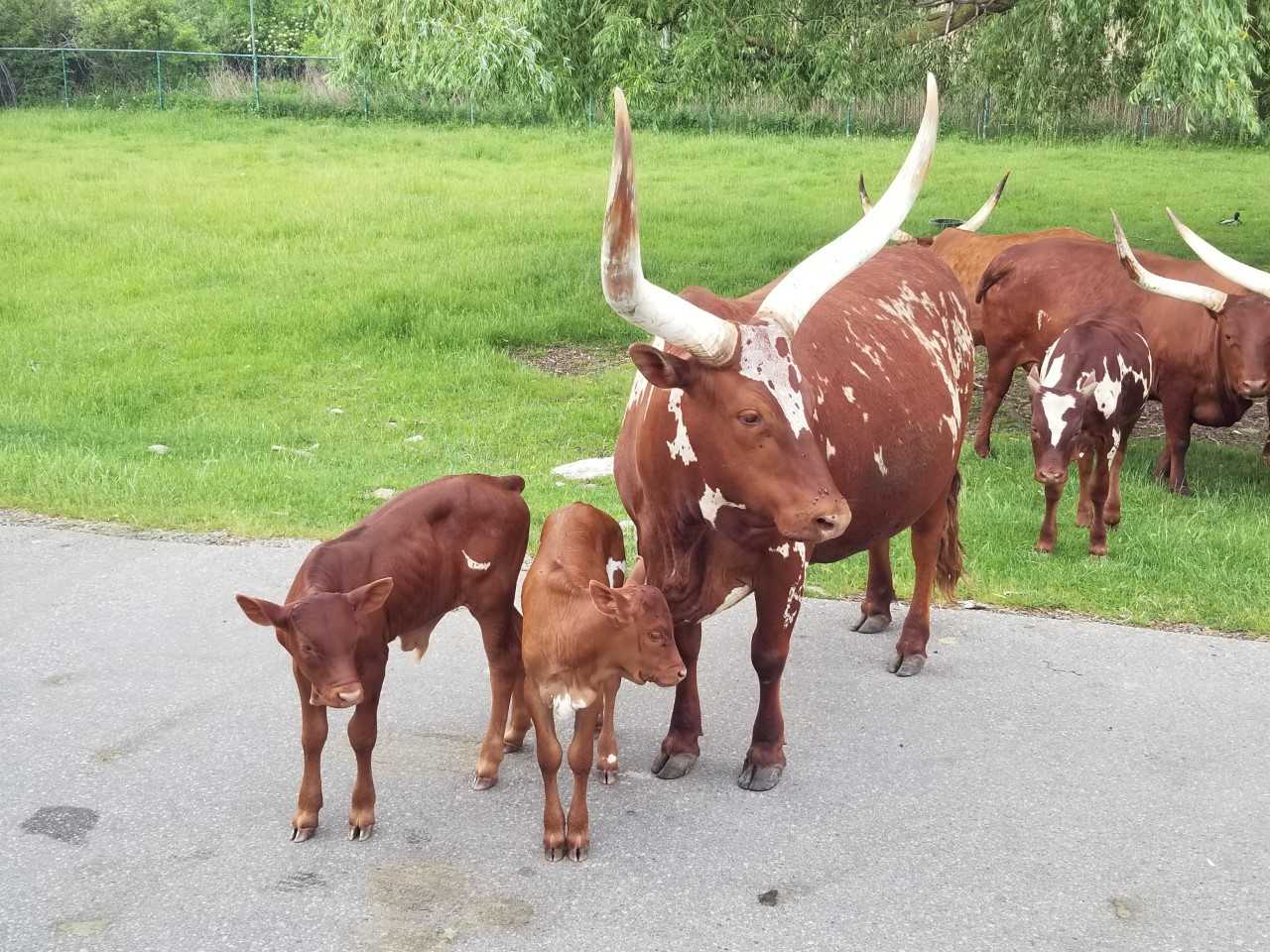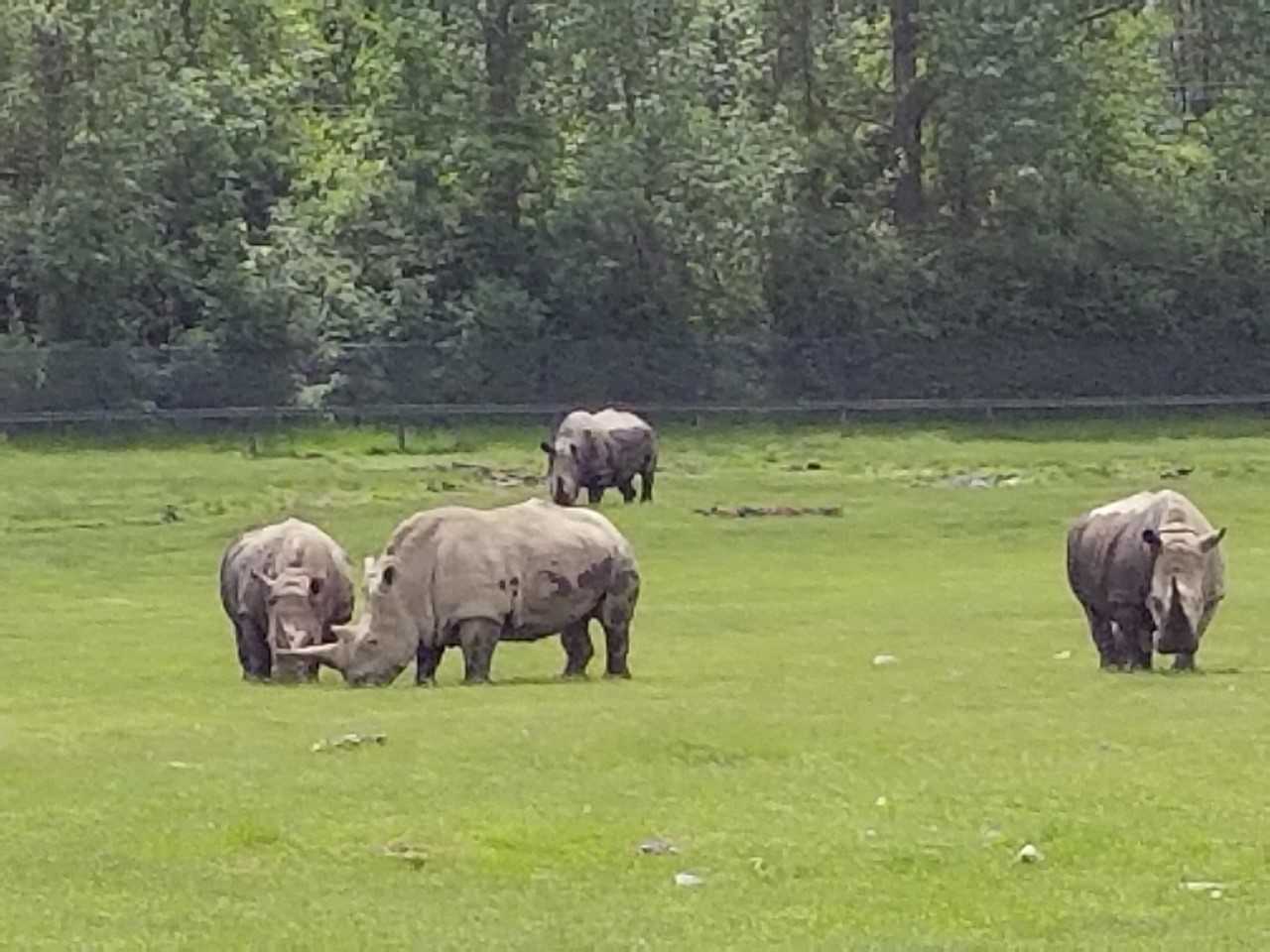 African Lion Safari
While visiting African Lion Safari, we traveled through seven large game reserves and entered into an environment that is home to over 1,000 birds and animals, many of which are classified as endangered or threatened species. The park is situated in Cambridge, Ontario on 750 acres, which have been designed to replicate the animals' natural setting. Animals living in these reserves roam freely, while we observed in "caged" vehicles.
Ilich Venues Tour: Little Caesar's Arena & Fox Theater
Our day began touring the new Little Caesar's Arena, home of the Red Wings and Pistons. Areas included: private club spaces, the Chevy Plaza, the Budweiser Beirgarden, the gondolas, the Before Training Center and the press box.
Our afternoon was spent touring the Fox Theatre that showcases the must-see details and its remarkable history. We toured over 10 locations throughout the building – from the orchestra pit and Mighty Mo', the largest working Moller theatre organ in the world to the Men's Lounge featuring the original furniture chosen by the wife of movie-mogul William Fox. We also learned the incredible story of how the citizens rose up to save the Fox from the wrecking ball while walking the very same halls as Elvis and The Rolling Stones.
Firekeepers Casino and Dark Horse Brewing Company
We had a wonderful day of gaming and guzzling!!! We began our day at Firekeepers Casino in Battle Creek where we took a chance with Lady Luck in the casino. Our second stop landed us in Marshall and the Dark Horse Brewing Company, where we will experienced a VIP Brewery Tour and beer sampling. We spent the remainder of our day touring the area!
What an exciting day for us as we toured WDIV Channel 4! Meteorologist, Brandon Roux, personally walked us through the station giving us a tour as we learned the fun behind the scene technology and even some of their TV secrets! We got to experience a live broadcast taping of "Live in the D" and were even invited to be apart of the show (see video above). Afterwards, we enjoyed a lunch at Traffic Jam & Snugs with some extra time to shop at Shinola or have a brew at Motor City Brewing Works.
Artist Hubert Massey/Federal Reserve Bank
Once again this year, St. Clair Shores Adult & Community Education, had the opportunity to view local artist, Hubert Massey's, incredible works! We began our tour at the Federal Reserve Bank in Detroit, where Hubert Massey's 4 x 14 ft mural graces the lobby. Then on to Cobo Hall where the artist himself is finishing another 30 x 60 ft masterpiece. This was a real treat for all of us to watch, as he explained the entire process and motivation for his art.Just like the renaissance artists, Massey's Buon Fresco style, mixing plaster with pigment, must be applied quickly before it dries. This was a real treat for all of us to watch, as he explained the entire process and motivation for his art. Massey worked and studied with Stephen Dimitroff and Lucienne Block, apprentices to muralist Diego Rivera.
Motown Museum & the DIA
We toured "Hitsville U.S.A." the nickname given to Motown's first headquarters. The former photographers' studio were purchased by Berry Gordy in 1959 and converted to a record label's administrative building and recording studio. We learned and reminisced about the sweet Motown sound that still resonates all over the globe, such artists as the Four Tops, Gladys Knight and The Pips, Jackson 5, Contours, Marvin Gaye, Miracles, Rare Earth, Martha and The Vandelles, Stevie Wonder, Supremes, Temptations, and many more! We also visited the Detroit Institute of Arts for their "Senior Day"! We had the opportunity to view the Monet exhibit and craft our own creations!
Cirque Du Soleil
"Crystal"
Cirque du Soleil "Crystal" featured world-class ice skating and unexpected acrobatics fused together to create the first on-ice performance from Cirque du Soleil!
The Historical Houses of Worship Tour with the Detroit Historical Society
Since 1972, these Worship Tours have acquainted metro Detroiter's with the contributions religious institutions have made in the development of our community. We toured five religious communities in Detroit with a step-on-guide who explained the history, culture and practices of each.
Holly Dickens Festival
For 44 years, the sights, sounds, smells and surprises of the Dickens Festival have been delighting holiday revelers in Historic Downtown Holly Michigan. We began with brunch at the Historical Holly Hotel and then the afternoon was spent shopping, riding horse and buggy, outside performances and touring historic Holly. Our day ended with the Historical Society for an afternoon of English Tea.
Herbert Massey Tour (Fall 2017)
Hubert Massey, a fellow Michigan artist, took use on a tour on his works in a variety of media. We viewed his murals in the Detroit African American History Museum, Paradise Valley Park, Campus Martius, Federal Reserve Bank, Antheneum Suite Hotel, Cobo Hall and many more.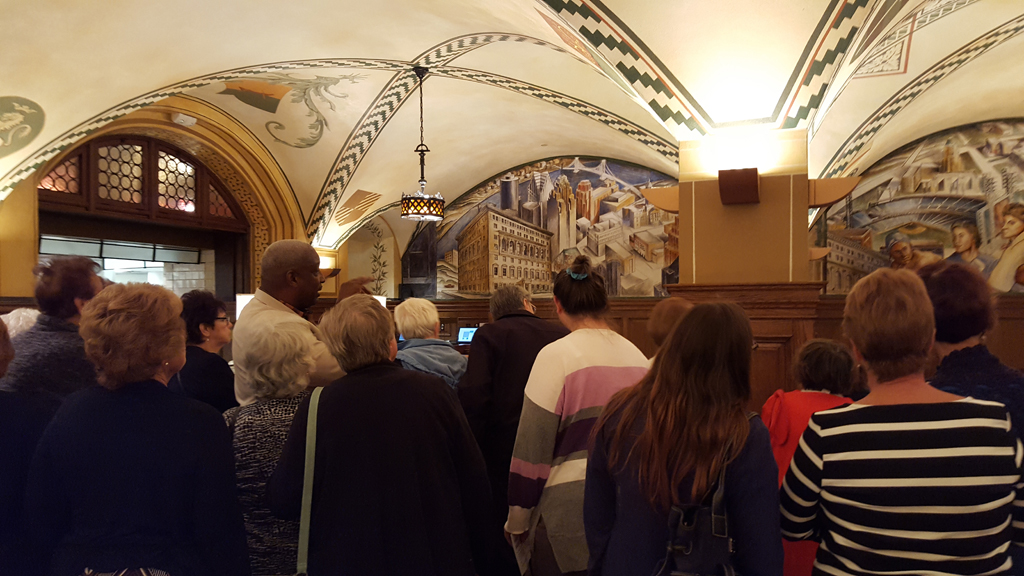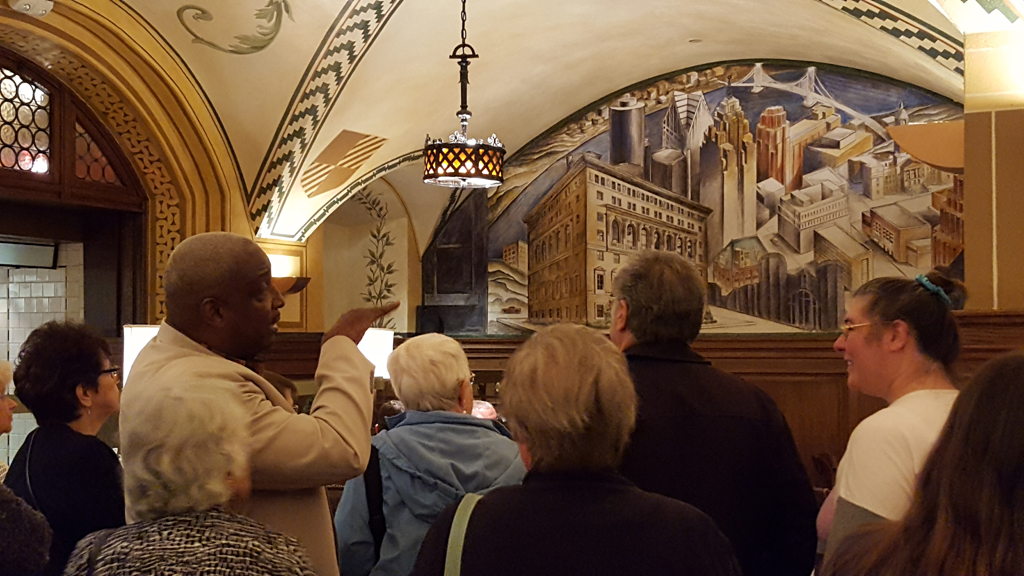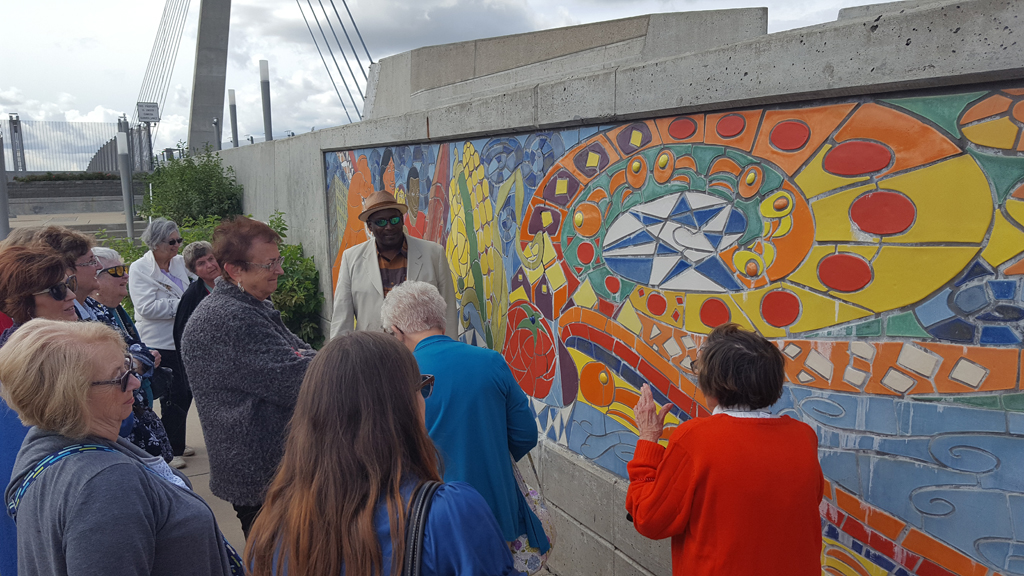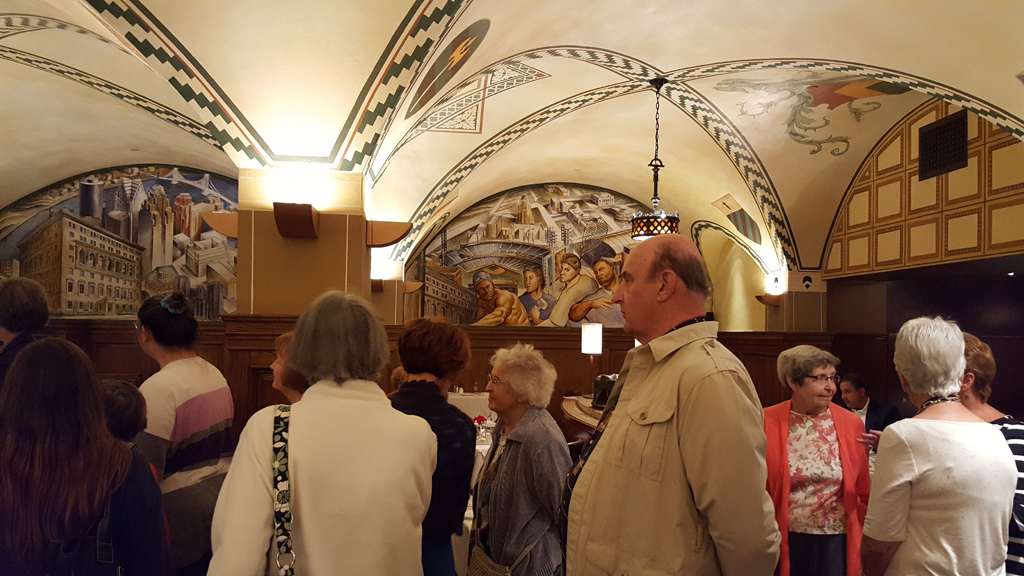 Check out some of our other Trips/Tours below